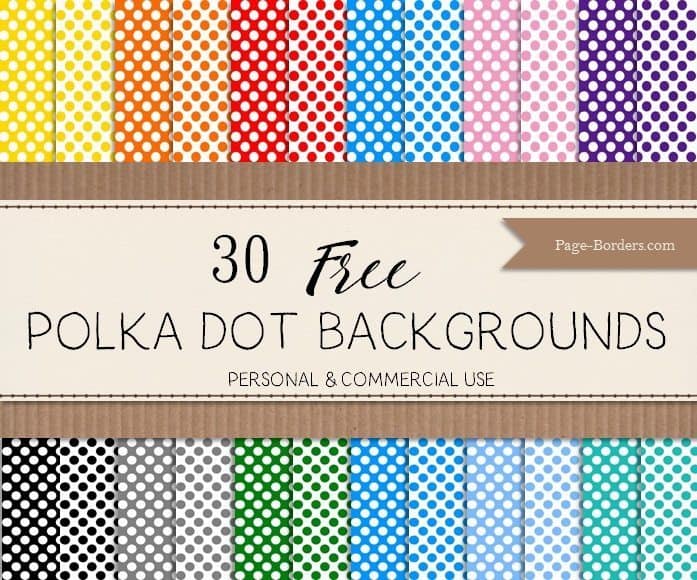 Free decorative backgrounds with polka dots. Use these vector illustrations for designing greeting cards, wedding invitations, posters, banners, etc.
How to Make a Polka Dot Background
Free printable polka dot background in any color you want. We have 15 ready-made colors but you can change the color with the click of a button to any color you want. You can also change the polka dot designs.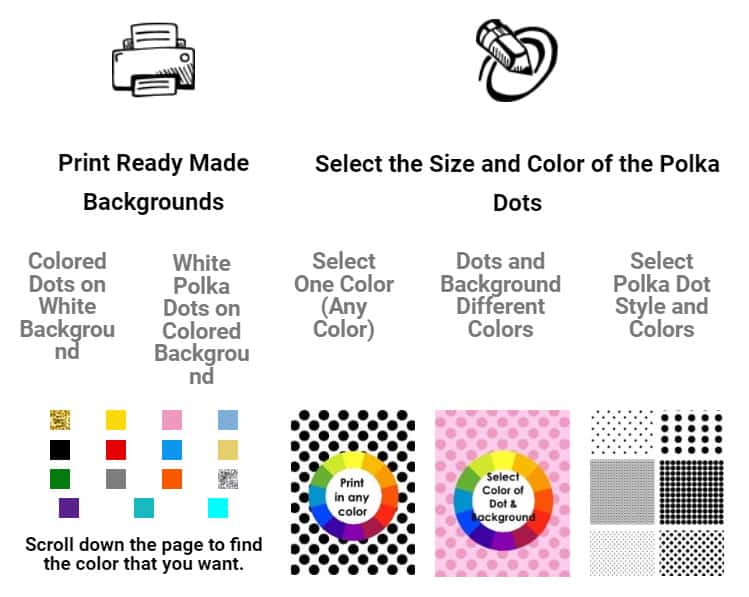 Open the Polka Dot Background Maker
Ready-Made Colors
Didn't find the color you were looking for? You can use our background maker to create a polka dot background in any color you want.
To Change One Color Only: Either the background color or the color of the dots
How to change the color of the background or the polka dots
Select either "colored polka dots on white" or "white polka dots on colored paper".
2. Click on the polka dots.
3. Scroll down to select a color.
4. Select the color you want to use.
5. Click on select.
6. Your background is ready to be downloaded or printed. If you want a few polka dot backgrounds in different colors then you can simply repeat the process and select another color.
To Change the Color of the Dots and the Background and to Select the Polka Dot Design
(see video above for step-by-step instructions)
Open the Polka Dot Background Maker
To change the polka dot design: Select the polka dot design from the select above. If you do not see the designs then click on "select images".
To change the color of the dots: click on the dots and then on "select color" and select a color.
To change the color of the background: click on "edit elements" and select "background" from the scroll down menu under it. Select any color.
If you don't want to change the polka dot pattern you can use ready-made backgrounds. Here are some sample polka dot papers created as described above:
You can use these for personal or commercial use but you cannot use them as-is without linking back to this site.
Fun Facts about Polka Dots
The circles on a polka dot pattern are all the same size.
The word "polka" was derived from a dance called the "polka dance". Around the time that the dance became very popular, many "polka" products were suddenly introduced into the market.
Disney's Minnie Mouse always wears a red polka dot dress with a matching bow.
Marilyn Monroe was a polka dot fan.
In 1926 Miss America was photographed in a polka dot swimsuit.
Julia Roberts wore a polka dot hat in the movie Pretty Woman.